EM34A-X Animation Controller
Hi-Fi Audio with Multiple Synchronized Control Outputs
The EM34A-X supports stereo MP3 audio conforming to the ISO 11172-3 standard with CBR/VBR up to 320 kbps for the best sound quality. After being triggered the system starts to play the animation audio and toggle multiple control outputs at preset moments. These outputs are typically used to control external electrical/electronic devices such lights, solenoids, motors, valves and etc. When not triggered the system can be configured to play ambient audio (a different MP3 file) continuously.

Versatile Trigger Methods
The animation can be triggered with push buttons, pressure floor mats, switch/relay closures, alarm/motion sensors, PLCs and etc. Four trigger inputs are available for triggering four different animation programs. All four control outputs can be employed in each program.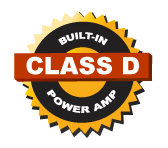 Class D Power Amplifier & Line Out
An internal class D power amplifier is standard on the EM34A-X. Due to the high efficiency of class D amplifiers external cooling is usually not necessary. Line level output is also available for feeding external power amplifiers in case more amplification is needed than the internal one can provide.

Removable Flash Card Storage
Audio files with embedded animation data are stored on a removable flash card making it easy to change animation programs in the field.

Standalone Operation & Easy Installation
The EM34A-X is totally self-contained in terms of operation. Installation is quick and easy thanks to the detachable screw terminals. No connector is required for wire connection.

Built Tough & Reliable
Built with industrial grade components and housed in rugged metal enclosures, The EM34A-X will provide years of reliable operation even under the most harsh conditions.

Advanced Audio-n-ActionTM Programming Method
The system requires the user to embed animation data into audio files with a free Windows based GUI software program. Animation time is exactly the same as the length of audio which can be well over a hour.

Optional Accessories



Automatic Time-Triggered Audio Playback
Automatic time-triggered audio playback is possible by controlling the player with an optional TMR-08 Weekly Event Timer. Each weekday may have a different program of events.



Remote File Management
When equipped with the QuikWave Remote File Management Kit the sound files can be remotely managed via wired or wireless network using a Windows application.



Audio Amplifier Module
When the player cannot be placed near the speakers, it may be better to drive an amplifier module installed near the speakers instead of running long speaker wires.


Typical Applications

* Museum exhibits
* Halloween prop control
* Other general purpose animation control