Home > Products > Audio Players > QuikWave Systems > EM-21C
EM-21C QuikWave Audio Player / Message Announcer
Sound File Support: MP3 (320 Kbps max.)

No. of Trigger Inupts: 1

Max. Output Power: 6W x 2 (stereo), 8W (BTL mono)

Memory Type: SD/SDHC card (2GB/32GB max.)

Supply Voltage: 10 ~ 15 VDC

Serial Port: none

Internal Relay: none

Certification: none
EM-21C is a rugged industrial MP3 player designed for the most demanding jobs. Much like a CD player playing sound tracks from a CD, EM-21C plays sound files from an SD/SDHC memory card but without the moving parts to wear and tear. The unit conforms to the ISO 11172-3 MP3 standard (up to 320 Kbps) and provides better sound quality than other MP3 players supporting 256 kbps or less.

Audio programming for the unit is as simple as copying sound files to the memory card via a card reader attached to the computer. The type of memory cards used, the SD/SDHC cards, are most popular and readily available in a number of capacities to suit different needs. Hundreds of tracks totaling hours of audio can be stored onto an inexpensive card for instant playback.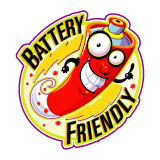 Powered by a single voltage DC power supply, EM-21C features a built-in 6W x 2 power amplifier which can be optionally turned off during standby to save power (battery life). A line level output is also available for feeding an external amplifier if desired. Audio playback can be triggered with a variety of methods such as push buttons, motion/alarm sensors and PLCs. Keypads and other custom interfaces are available by special request.

EM-21C can be easily configured to work in different operation modes such as:

- Start the playback when the trigger is applied or removed.
- Allow the playback to be interruptible by another trigger or not.
- Play the sound just once or loop it till the trigger is removed.
- Automatically play a file at intervals configurable from 1 to 99 minutes.

Housed in a compact yet rugged metal case, EM-21C can be easily secured into place with the integrated mounting tabs on each side of the unit. Wiring is done via screw terminals and requires only a small screw driver. The screw terminals are unpluggable, making it fool-proof to replace the unit in the field when necessary.

Zero Watt Standby Power
When configured in the battery mode, EM-21C shuts down completely while idle and draws zero watt of power. This feature is particularly beneficial for those battery operated applications where the usage is infrequent and the battery is drained mostly while idle.

Optional Accessories



Automatic Time-Triggered Audio Playback
Automatic time-triggered audio playback is possible by controlling the player with an optional TMR-08 Weekly Event Timer. Each weekday may have a different program of events.



Remote File Management
When equipped with the QuikWave Remote File Management Kit the sound files can be remotely managed via wired or wireless network using a Windows application.



Audio Amplifier Module
When the player cannot be placed near the speakers, it may be better to drive an amplifier module installed near the speakers instead of running long speaker wires.

Typical Applications

Museum Audio
Product Advertising
Audio Tour Guide
Transportation
Parking Garage
Warning/Safety
Industrial Equipement
Vending Machine