Home > Products > Audio Players > QuikWave > EM-38AM
EM-38AM/EM-38AMR/EM-38AMX QuikWave Audio Players with Modbus Support
Sound File Support: MP3 (320 Kbps max.)

Control Interface: Modbus

Max. Output Power: 15W x 2 (stereo), 55W (mono)

Memory Type: SD/SDHC card (2GB/32GB max.)

Supply Voltage: 12 ~ 30 VDC

Serial Port: RS-232/RS-485

Internal Relay: 8 (EM-38AMR & EM-38AMX)

Certification: CE
EM-38AM is a rugged industrial MP3 player designed for the most demanding jobs. Much like a CD player playing sound tracks from a CD, EM-38AM plays sound files from an SD/SDHC memory card but without the moving parts to wear and tear. The unit conforms to the ISO 11172-3 MP3 standard (up to 320 Kbps) and provides better sound quality than other MP3 players supporting 256 kbps or less.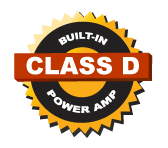 Audio programming for the unit is as simple as copying sound files to the memory card via a card reader attached to the computer. The type of memory cards used, the SD/SDHC cards, are most popular and readily available in a number of capacities to suit different needs. Hundreds of tracks totaling hours of audio can be stored onto an inexpensive card for instant playback.

Powered by a single voltage DC power supply, EM-38AM features a built-in energy saving class D power amplifier with minimum heat dissipation. A line level output is also available for feeding an external amplifier if desired. System operation is controlled via a serial interface with Modbus support:

- Set playback parameters
- Start/Stop/Pause/Resume playabck
- Set/reset relay output (for EM-38AMR and EM-38AMX only)
- Check playback status

Housed in a compact yet rugged metal case, EM-38AM can be easily secured into place with the integrated mounting tabs on each side of the unit. Wiring is done via screw terminals and requires only a small screw driver. The screw terminals are unpluggable, making it fool-proof to replace the unit in the field when necessary.

What is Modbus?
Modbus is a communication protocol for connecting industrial electronic devices. It is typically used to transmit signals from instrumentation and control devices back to a main controller or data gathering system. For more information please visit http://www.modbus.org.

Optional Accessories



Remote File Management
When equipped with the QuikWave Remote File Management Kit the sound files can be remotely managed via wired or wireless network using a Windows application.



Audio Amplifier Module
When the player cannot be placed near the speakers, it may be better to drive an amplifier module installed near the speakers instead of running long speaker wires.


Typical Applications

Museum Audio
Product Advertising
Audio Tour Guide
Transportation
Parking Garage
Warning/Safety
Industrial Equipement
Vending Machine

Available Models

EM-38AM: Audio only, no relay
EM-38AMR: Audio + 8 mechanical relays for basic control
EM-38AMX: Audio + 8 mechanical relays for advanced control

Note: A free Windows utility program called QSAplay must be used to embed timing cues into sound files for the EM-38AMX. This program is compatible with Windows 8 and below, but not Windows 10.