Home > Products > Audio Players > QuikWave Systems > QuikLink WF-01
QuikLinkTM WF-01 Wi-Fi Access Unit For QuikWave Audio Players
TCP control commands

HTTP control commands

WiFi AP/STA Uplink dual mode (2.4GHz)

Wide operating voltage (9~30 Vdc)

Can be powered via the QuikWave RS-232 serial interface

Built-in web interface with mobile device support

Four user defined trigger inputs

Built-in high performance antenna

Optional upgrade to extended antenna with suction cup mount

Download Userís Manual
QuikLink WF-01 provides WiFi control access to certain QuikWave audio players. It can function as either an access point (with SSID) or a bridge to a 2.4GHz WiFi network. Both TCP control commands and HTTP control commands are supported via the built-in TCP server and Web server respectively, allowing the user to wirelessly control the audio player from a PC or a PLC with little effort.

TCP Command Examples
F001 = Play file 001
P = Pause
R = Resume
S = Stop
V6464 = Set output volume to 64 for both left and right channels
B = Busy? (check current status)

HTTP Command Examples
GET http://10.0.0.1/QW/F001 = Play file 001
GET http://10.0.0.1/QW/P = Pause
GET http://10.0.0.1/QW/R = Resume
GET http://10.0.0.1/QW/S = Stop
GET http://10.0.0.1/QW/V6464 = Set output volume to 64 for both left and right channels
GET http://10.0.0.1/QW/B = Busy? (check current status)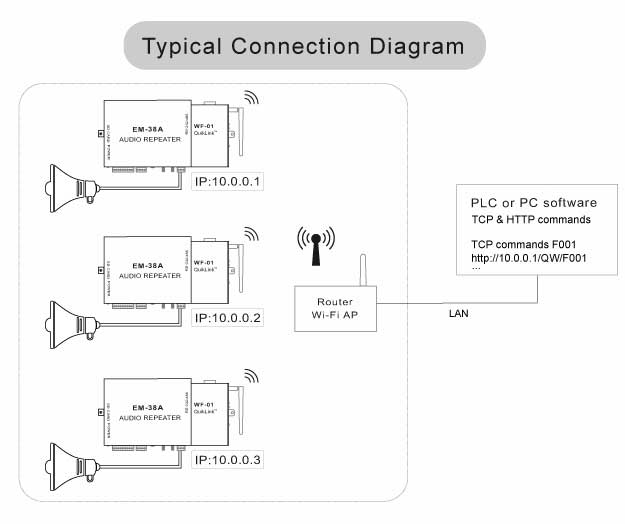 Custom App Implementation
It is possible for the user to implement his/her own app on the WF-01 as a plug-in developed with Arduino IDE, Micropython, and Lua. For example, the app can monitor the current time (obtained from the Internet via the WF-01) and play corresponding messages at certain times of the day. The potential of custom application is simply enormous. Please feel free to contac us if you need help with your specific applications.

Physical Integration
The WF-01 is designed to be integrated with the EM-38A/AR/AX as a single unit, eliminating the need for additional cable or power supply.