The following projects were created over the years but never materialized into products due to various reasons. Please contact us if you are interested in learning more, or have similar product ideas that you would like to discuss with us about.

Eletech is always seeking to cooperate with customers and develop custom products based on special, individual needs. Our in-house design team offers a wide range of expertise, as can be demonstrated by our broad product lines. In addition to product development we also provide manufacturing services so that your needs can be fulfilled with minimum efforts in the least amount of time.

8-Channel Audio Player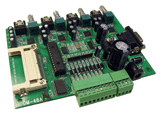 This audio player can play 8 channels of sound simultaneously from a single sound file stored on memory card. The sound file is in a proprietary format and created by combining four stereo MP3 files together with a Windows program. During playback all channels are always in perfect synchronization with each other, no matter how long the playback lasts. The audio is outputed via four stereo phone jacks, as if each MP3 file played through its own jack. The player also features multiple inputs for triggering different sound files.

Suitable applications include theme park sound effects, multi-language broadcasting and etc.



GPS Activated Voice Module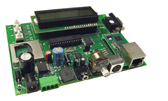 With help from an external GPS receiver this voice module is able to determine its current location and, when arriving at one of the target sites, play a corresponding message automatically. Different messages can be played based on the moving direction (leaving or arriving). Message files in standard MP3 format are stored on a flash memory card along with target site configuration created by using a Windows program with Google Maps overlay technology.

Suitable applications include automated bus stop announcement, automated tour bus voice guide and etc.